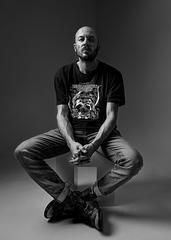 VITA
Erik Bont is an international photographer based in Austria.
After business school, Erik worked in a bank job where – surprise - money was the predominating topic. Being part of this capitalistic environment made him aware of the consequences this system brings about and how it affects him and the world around him. That's when he started to question this superficially "perfect" system.
Erik soon realized that life depicted by the media is often far from reality and strongly feels the need to show these imperfections. The inhumanity of politics and how we ended up depending on money to experience emotions are topics that flow into his work. His motto: if the "real" world takes away emotions, I want to give them back to the people! By channeling the energy of his dreams, collecting and putting together fantasies and emotions to create his own world, he aims to illustrate that emotions are much more powerful than pieces of paper - in form of money. In his work he tries to represent people as human beings, not as marionettes of business. Therefore, his work moves into two directions – on one side he depicts humans and interprets people and portrait photography in an artificial and often conceptual way, on the other side he is fascinated by the mark humans are going to leave behind in this world and wants to portray this in a documentary way.
Doesn't matter which direction Erik chooses, his main aim is to seduce the observer and make people feel the emotions that drove him to do his work. He loves to shock, fascinate and amaze – polarizing with his work is his mindset.
'Emotions dominate the new world order.' (Erik Bont, starting his work in 2005)
Ebenfalls können personenbezogene Daten für analytische Zecke erhoben werden, die unter Umständen auch im EU-Ausland gespeichert werden. Wenn du die Website weiter nutzt, gehen wir von deinem Einverständnis aus.